Watch GCW Josh Barnett's Bloodsport 2020 Full Show Online DX-TV
GCW Josh Barnett's Bloodsport 2020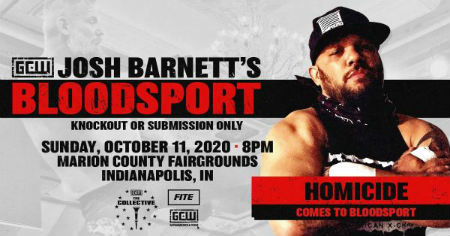 GCW Josh Barnett's Bloodsport 2020 Full Show Online
Name of the event: GCW Josh Barnett's Bloodsport 3
Date: 11.10.2020
Promotion: Game Changer Wrestling
Type: Pay Per View
Location: Indianapolis, Indiana, USA
Arena: Marion County Fairgrounds
Broadcast type: Live
Broadcast date: 11.09.2020
TV station/network: FITE TV
GCW Josh Barnett's Bloodsport 2020
Singles Match
Erik Hammer vs. Kal Jak
Singles Match
Simon Grimm vs. Matt Makowski
Singles Match
Homicide vs. Tom Lawlor
Singles Match
Davey Boy Smith Jr. vs. Josh Alexander
Singles Match GCW Josh Barnett's Bloodsport 2020
Alexander James vs. Calvin Tankman
Women's Tournament Semi Final Match
Allysin Kay vs. Killer Kelly
Women's Tournament Semi Final Match
Lindsay Snow vs. Leyla Hirsch
Singles Match
Jon Moxley vs. Chris Dickinson
GCW Josh Barnett's Bloodsport 2020
Currently, Jon Moxley reigns supreme as the AEW World Champion. Moxley won the title from Chris Jericho this past February at AEW Revolution, ending "Le Champion's" 182-day reign in the process. Since then, Moxley has successfully defended the title against an array of opponents. Whether it was against the daredevil Darby Allin, the underhanded MJF, or the powerhouses in Brian Cage and Brodie Lee, Moxley was able to come out on top with his brawling abilities and wily mindset.
GCW Josh Barnett's Bloodsport 2020
It's also important to note that Moxley is the owner of the IWGP United States Heavyweight Championship. Currently in his second reign with the title, Moxley's last defense took place this past February. Since then, Moxley has been unable to work New Japan Pro Wrestling events due to the COVID-19 pandemic. However, with KENTA recently winning the New Japan Cup 2020 USA, granting him a future IWGP United States Heavyweight Championship opportunity, Moxley may be returning to NJPW programming sooner than later.
 Josh Barnett's Bloodsport 2020
This will be Bloodsport's first official tournament in the promotion's history. They were going to put on the Gotch-Robinson tournament during Wrestlemania weekend this year but of course, COVID ruined it. While this is a smaller-scale tournament the competitors, all four competitors are elite pro wrestlers.
First up will be "Kaiju Power" Lindsay Snow taking on "Legit" Leyla Hirsch. These two have history with each other. They fought almost a year ago for Title Match Wrestling with Hirsch coming out the victory by pinfall.
 Josh Barnett's Bloodsport 2020
Keep in mind though that was a pro wrestling match with traditional pro wrestling rules. Snow with her experience in Bloodsport and her jiu-jitsu background will be a handful for Hirsch. Snow will have to contend with Hirsch's pure strength. Once she is able to grab an opponent you are on a one-way ticket to Suplex City. The other issue is if Hirsch has had enough time to prepare for this competition. She is a late replacement for Deonna Purazzo and is also wrestling before the Bloodsport show. Hirsch will need to be of sound mind and body if she's going to make it past it Snow.
GCW Josh Barnett's Bloodsport 2020 Full Show Online
Watch online
Server 1
Server 2
Uploaded By Site DX-TV.com