Watch WWE NXT TakeOver 31 2020 10 04 Full Show Live Stream DX-TV
WWE NXT TakeOver 31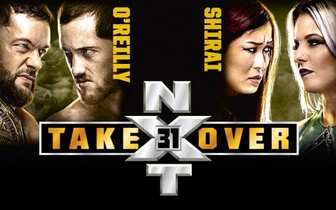 WWE NXT TakeOver 31 2020 10 04 Full Show Live Stream
SUNDAY, OCT 4 | 7/6 PM
NXT Champion Finn Bálor vs. Kyle O'Reilly
Finn Bálor defeated one member of The Undisputed ERA to win the NXT Championship for a second time. Now he'll have to go through another to retain it.
Bálor will defend the NXT Title against Kyle O'Reilly at NXT TakeOver 31. 
The Prince has reassumed his throne atop the black-and-gold brand after a grueling two-week marathon, first emerging from the first ever Fatal 4-Way 60-minute Iron Man Match in a tie with Adam Cole. Then, Bálor toppled the leader of The Undisputed ERA the next week in an unforgettable classic to once again capture NXT's most prestigious prize.
WWE NXT TakeOver 31
O'Reilly went through an arduous test of his own to emerge as the No. 1 Contender.
The skilled martial artist survived four other men in the first-ever Gauntlet Eliminator Match to earn his chance at the title.
As a three-time NXT Tag Team Champion, O'Reilly knows plenty about hoisting gold in NXT. But capturing his first singles championship without the rest of The Undisputed ERA — and doing so against one of the most accomplished Superstars in NXT history — will likely prove to be the greatest obstacle he has faced. 
Is Bálor's reign only just beginning, or is O'Reilly poised to stun The Prince?
Find out by tuning in to NXT TakeOver 31, streaming live Sunday, Oct. 4, at 7 ET/4 PT on the award-winning WWE Network.
WWE NXT TakeOver 31
NXT North American Champion Damian Priest vs. Johnny Gargano
Damian Priest wants to live in infamy as NXT North American Champion, but he'll have to defeat one of the black-and-gold brand's most decorated Superstars in Johnny Gargano to keep his hands on the title.
William Regal announced on social media that The Archer of Infamy will battle Johnny Wrestling for the title at NXT TakeOver 31 on Sunday, Oct. 4.
WWE TakeOver 31
Gargano has been vocal about his and his wife Candice LeRae's plans to bring gold back to the Gargano household. Priest, on the other hand, is fresh off his first successful title defense after a grueling victory over Timothy Thatcher. The first-time champion captured the title in a jaw-dropping NXT North American Title Ladder Match at NXT TakeOver XXX. In the critical moment of that match, Priest and Gargano found themselves atop the ladder. Gargano seemed destined for gold as he unhooked the title, but Priest held firm and knocked Johnny Wrestling from the ladder to secure the victory.
WWE TakeOver 31
Can Gargano get the better of Priest in a one-on-one battle? Or will Priest be ready for another infamous TakeOver title celebration?
Don't miss NXT TakeOver 31, streaming on Oct. 4 at 7 ET/4 PT on the award-winning WWE Network!
WWE NXT TakeOver 31 2020 10 04 Full Show Live Stream
Watch online
Server 1
Server 2
Uploaded By Site DX-TV.com