Watch Synergy Pro Wrestling Synergys 3rd Birthday 2020 209 26 Live DX-TV
Synergys 3rd Birthday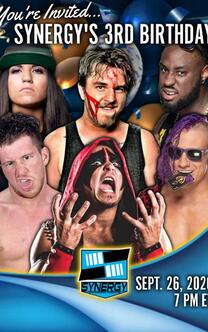 Synergy Pro Wrestling Synergys 3rd Birthday 2020 209 26 Live
Monster Factory, 541 Mantua Avenue, Paulsboro, NJ // 7 pm ET
Is it the best card in Synergy Pro Wrestling history? Some Synergy fans are saying so – we've gone all out for Synergy Pro Wrestling's 3rd Birthday, LIVE from the World Famous Monster Factory, 541 Mantua Avenue in Paulsboro, NJ!
Synergy's 3rd Birthday goes down Saturday, Sept. 26th at 7 pm ET, and streams around the world LIVE on FITE.tv!
​Synergy Pro Wrestling Champion Brandon Kirk defends his newly-won title against the winner of the 2020 Garden State Invitational, Tony Deppen! WARHORSE returns to challenge former 2-time Champion Frightmare! Impact Wrestling's Ace Austin faces off against the returning Jordan Oliver for the first time EVER in singles action!
Synergys 3rd Birthday
​Plus, the debut of the Nerd World Order, LSG vs. Kasey Catal, TJ Crawford and Charles Mason for the Cruiserweight Crown, MV Young's Poly Cult Proving Ground, and so much more!
The 2nd Annual Garden State Invitational Tournament streamed LIVE on FITE.tv (replays are available!), and it left nobody disappointed. From the surprise return of 2019 GSI Winner "Retro" Anthony Greene (filling in for an injured Matt Cross), to a first-ever Cruiserweight Crown Champion, to exceptional performances by Synergy Pro Wrestling Champion Frightmare and the entire tournament field, it's no wonder #GSI2020 trended well into the night on Twitter.
Synergys 3rd Birthday
Tony Deppen channeled his inner "Eddie" and lied, cheated and stole his way to the 2020 Garden State Invitational Trophy, defeating Gregory Iron, KTB and Jordan Oliver on his way to the win. It was Oliver, however, who captured the hearts of the Synergy Family that night. Jordan and Injustice stable-mate Myron Reed put on a 20 minute, breathtaking 1st round contest you must see to believe. Nursing a heavily-taped shoulder, Jordan battled through 2019 GSI winner Anthony Greene before an epic final contest with Deppen. It was a tremendous performance by the young workhorse of Synergy.
Synergys 3rd Birthday
​Frightmare vanquished an old foe in Desean Pratt to retain his Synergy Pro Wrestling Championship – though it certainly was no easy task.
​And the first Cruiserweight Crown Champion should have been a popular choice – but fans were left a bit puzzled by how TJ Crawford went about defeating Ellis Taylor to claim the crown. Was the finishing moment of this match truly necessary? Is Crawford proud of his actions? Will Ellis Taylor have anything to say, and what did #1 Contender Kasey Catal think of it all?
Synergy Pro Wrestling Synergys 3rd Birthday 2020 209 26 Live
Watch online
Server 1
Streaming live will be start before start show in 15 min stay tuned and reload page
Server 2
Uploaded By Site DX-TV.com