Watch SUP Swing of the Axe 2020 10 09 Free Live Stream DX-TV
SUP Swing of the Axe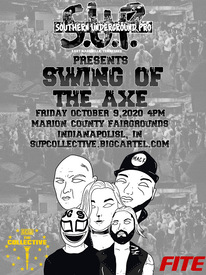 SUP Swing of the Axe 2020 10 09 Free Live Stream
S.U.P Swing Of The Axe – 4:00pm ET
Jake Something v. O Shay Edwards
Nolan Edward v. AJ Gray
To Infinity And Beyond v. Violence Is Forever
SUP Bonestorm Champion A.C. Mack v. 1 Called Manders
Allie Kat v. Davienne
Jaden Newman v. Anthony Henry
Erick Stevens v. Brett Ison
Lee Moriarty v. Daniel Makabe
SUP Swing of the Axe
To Infinity And Beyond (Colin Delaney & Cheech Hernandez) vs
Violence Is Forever (Kevin Ku & Dominic Garrini)
Two top tag teams square off in this one as the first-ever SUP Tag Team Champions take on Delaney and Hernandez.  Garrini and Ku are both stars on MLW Fusion but long before that have been one of the best tag teams in the US with their highly physical style of wrestling make them favourites everywhere they go.  Delaney and Hernandez have a tough task in this one but they're more than up to the challenge
Jaden Newman vs Anthony Henry
SUP Swing of the Axe
Newman is a young man who has very much been stuck in his region for some time.  While he has competed on GCW events he has not yet been able to break out beyond his own regions top indies.   In this match he gets to take on Anthony Henry who will be retiring at the end of 2020.  Henry is giving it his all to go out with the best matches possible and that may be what helps Newman break out in a major way.
SUP Swing of the Axe
Erick Stevens vs Brett Ison
Erick Stevens is a pro's pro when it comes to this sport and thanks to his years of experience has been able to become one of the top names on the indies today.  His opponent is former SUP Bonestorm Champion Brett Ison.  Ison is a top tier brawler who is tough as nails which Stevens will only be too happy about.  If you like guys throwing hands in the ring then this is the match for you.
SUP Swing of the Axe
Allie Kat vs Davienne
Allie Kat is set to have a big weekend at The Collective.  In this match she faces off with Davienne.  Davienne is a familiar face to fans of the New England indie scene as she has wrestled for a number of top promotions in the region.  She has captured a number of women's championships in the area and has also won tag team gold alongside JT Dunn.  Her and Kat will no doubt take each other to the limit in this one
SUP Swing of the Axe 2020 10 09 Free Live Stream
Watch online
Server 1
Server 2
SUP Swing of the Axe
Uploaded By Site DX-TV.com
SUP Swing of the Axe