Watch NJPW New Japan Road 2020 02 21 Days 2 Live Stream DX-TV
NJPW New Japan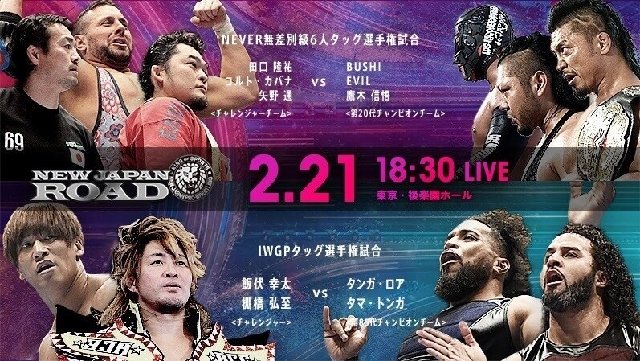 NJPW New Japan Road 2020 02 21 Days 2 Live
FRI. FEBRUARY. 21. 2020 | DOOR 17:30 | BELL 18:30 Tokyo
Tomoaki Honma
With an unconventional route to NJPW, Tomaki Honma made his debut for the violent Big Japan Wrestling, where he earned a scarred
forehead, and throat injuries that gave him his trademark husky voice. When Togi Makabe had his own spell on the Japanese
independents, he found a kindred spirit with Honma, and brought him back to New Japan as part of the Great Bash Heel stable. 
When the majority of GBH turned on Makabe and left to found CHAOS, Honma stuck by his best friend Makabe. The two won
back to back World Tag Leagues in 2015 and 2016, and they won the IWGP Tag Team Championships at Wrestle Kingdom 10.
Honma's loyalty to Makabe, combined with a good hearted nature and underdog status in a lot of his matches made him a solid fan
favourite. The crowd will always will on Honma to land Kokeshi headbutts, delivered by Honma with his arms unmoving at his side
like the traditional limbless Japanese dolls that are a symbol of positivity and happiness.
Honma missed over a year of action after he sustained a severe spinal injury in March 2017, but bravely made his return
to the ring the next June,
Watch online
Server 1
NJPW New Japan Road 2020 02 21 Days 2 Live
Uploaded By Site DX-TV.com