ICW No Holds Barred Pitfighter X5 Free Live Stream DX-TV
ICW No Holds Barred Pitfighter X5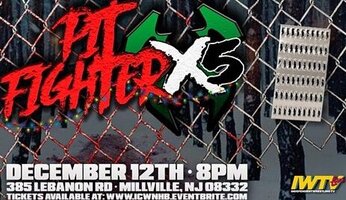 [su_expand more_text="Show More Info" less_text="Close all Info" height="50″ text_color="#000000″ link_color="#e25f8b" link_style="button" more_icon="icon: arrow-down" less_icon="icon: arrow-up"]
Name of the event: ICW No Holds Barred Pitfighter X5
Date: 12.12.2020
Promotion: ICW No Holds Barred
Type: TV-Show
Location: Millville, New Jersey, USA
Arena: The Blood Shed
Broadcast type: Live
Broadcast date: 12.12.2020
Date And Time
Sat, December 12, 2020
8:00 PM – 11:59 PM EST
ICW No Holds Barred 
Full Card  Pitfighter X5
Singles Match
Aidan Blackhart vs. Akira
Singles Match
Gary Jay vs. Domini Garrinic
Christmas Tree Death Match
Neil Diamond Cutter vs. Jeff Cannonball
Singles Match
Casanova Valentine vs. Alex Ocean (w/Riley Madison)
Singles Match
Danny Demanto vs. Brandon Kirk
Singles Match
John Wayne Murdoch vs. Nolan Edward
Singles Match
Dan Maff vs. Shane Mercer
ICW No Holds Barred 
Alex Ocean W/Riley Madison vs Casanova Valentine
Two members from the new wave of deathmatch wrestlers will collide at Pitfighter X5.
Valentine debuted in 2014 but has only broken out in recent years and has become a regular for ICW:NHB this year. 
Alex Ocean is someone that has the eyes of hardcore fans on him as he has showed potential to lead deathmatch wrestling for years to come.
This will be an interesting clash of two performers that will no doubt continue to wage war with one another for years to come.
The Rest Of The Card
Aiden Blackhart vs AKIRA
Christmas Tree Deathmatch: Neil Diamond Cutter vs Jeff Cannonball
Gary Jay vs Dominic Garrini
John Wayne Murdoch vs Nolan Edward
Danny Demanto vs Brandon Kirk
Reed Bentley vs Satu Jinn
 Holds Barred 
Where To Watch Pitfighter X5
This show will aire LIVE on IWTV.  You can get five free days of an IWTV subscription using the code ICWNHB
[/su_expand]
Watch online
Server 1
fixed and Updated Links Streaming
Server 2
Uploaded By Site DX-TV.com