Watch EVOLVE 146 2020 03 01 Free Live Stream DX-TV
EVOLVE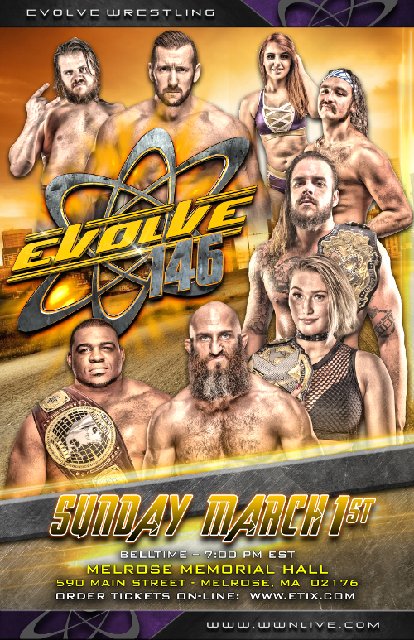 146 2020 03 01 Free Live
EVOLVE 146
Sunday, March 1st, 2020
Belltime – 7:00 PM EST
Melrose Memorial Hall
590 Main St.
Melrose, MA 02176
Already announced:
The Main Event – Non-Title
EVOLVE Champion Josh Briggs vs. AR Fox with Ayla
Only In EVOLVE
Mansoor vs. Anthony Greene
1st-Time-Ever Match
JD Drake vs. Curt Stallion
Grudge Match
Joe Gacy vs. Anthony Gutierrez
Grudge Match
Stephen Wolf vs. Harlem Bravado
Special Challenge Match
Brendan Vink vs. Leon Ruff
Special Challenge Match
Jessi Kamea vs. Avery Taylor
Special Challenge Match
Brandi Lauren vs. Alex $ky
Plus, Jon Davis and others!
A number of NXT stars are set for appearances on upcoming EVOLVE shows.
EVOLVE Wrestling announced multiple matches for EVOLVE 145 and 146 as well as appearances from Rhea Ripley, Tommaso Ciampa
and Keith Lee, who will be available for meet-and-greets on both shows. EVOLVE 145 will take place on February 29 at the La Boom in Queens, New York and
EVOLVE 146 is taking place on March 1 at the Melrose Memorial Hall in Melrose, Massachusetts.
Watch online
Server 1
EVOLVE 146 2020 03 01 Free Live
Uploaded By Site DX-TV.com