Watch Beyond Championship Wrestling 2020 03 01 Free Live Stream DX-TV
Beyond Wrestling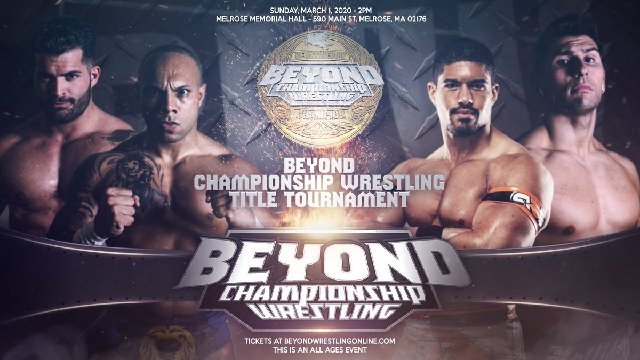 Beyond Championship Wrestling 2020 03 01 Free Live
SUNDAY, MARCH 1, 2020 AT 2PM
MELROSE MEMORIAL HALL – MELROSE, MA
PRESENTS "BEYOND CHAMPIONSHIP WRESTLING"
SUNDAY, MARCH 1ST, 2020
2:00PM ENTRY, 2:30PM BELL TIME.
Beyond Wrestling
Mike Verna has mostly been a tag team wrestler in Beyond with his partner Rex Lawless. The two competed a few times as a tag team in both seasons of
Uncharted Territory and a few more times for Beyond in the past. Mike will now be looking to break out as a singles star. Verna has plenty of experience
acting on the side and could make for great a tv star. His opponent will be Robo a man who wrestled a few times in dark matches at Uncharted Territory and
was supposed to make his debut during the Tournament for Tomorrow but was attacked by Club Cam. Robo will be able to make a huge name
for himself with a big win here in the tournament.
Beyond Championship Wrestling 2020
Denver Colorado, the man not the place, has been the person behind Beyond Wrestling for the last ten year. He is the man who has brought you Americanrana,
the man who brought you most of your favorite wrestlers in AEW and WWE, the man behind Uncharted Territory. Beyond Wrestling has been his baby but on the pilot
episode of Beyond Championship Wrestling, DC will be fighting for the sake of his company against Vin Gerard. Vin Gerard is a Chikara veteran who has gone by a bunch
of other names like Equinox and Jerry Durling. He was trained in 2004 Wrestle Factory class but hasn't wrestled since losing a Championship vs Career match against 
Watch online
Server 1
Live is Started now
Beyond Championship Wrestling 2020 03 01 Free Live
Uploaded By Site DX-TV.com