Watch AIW Thunder In Indianapolis 2020 10 09 Live Stream DX-TV

AIW Thunder In Indianapolis 2020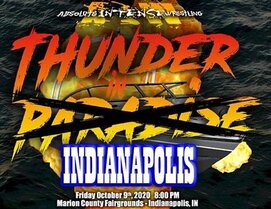 AIW Thunder In Indianapolis 2020 10 09 Free Live Stream
Name of the event: AIW Thunder In Indianapolis
Date: 09.10.2020
Promotion: Absolute Intense Wrestling
Type: Pay Per View
Location: Indianapolis, Indiana, USA
Arena: Marion County Fairgrounds
Broadcast type: Live
Broadcast date: 09.10.2020
TV station/network: FITE TV
AIW Thunder In Indianapolis 2020
Singles Match
Mordecai vs. Danhausen
AIW Absolute Title No Rope Barbed Wire Match
Matthew Justice (w/Bill Alfonso) (c) vs. Joshua Bishop (w/Wes Barkley)
Three Way Match
Alex Shelley vs. Lee Moriarty vs. Tre Lamar
Singles Match
Mance Warner vs. Mr. Brickster
Tag Team Match
Allie Kat & Levi Everett vs. The Bitcoin Boyz (Eric Taylor & Mikey Montgomery)
 Thunder In Indianapolis 2020
Four Way Match
Dr. Daniel C. Rockingham vs. PB Smooth vs. Zach Thomas vs. Derek Dilinger
Singles Match
Erick Stevens vs. Dominic Garrini
Singles Match
Tom Lawlor vs. The Karate Man (Ethan Page)
AIW Tag Team Title Best Two Out Of Three Falls Match
To Infinity And Beyond (Cheech & Colin Delaney) (c) vs
The Philly Marino Experience (Marino Tenaglia & Philly Collins)
AIW Thunder In Indianapolis 2020
On the other side of time, Alex Shelley looks to hold on to this current resurgance of his career, facing two gentleman ready to take the spotlight for good.
Shelley, coming off a victory over Kylie Rae for the BLP Championship and then winning Turbo Graps 16, faces Lee Moriarty & Tre Lamar.
Ask 10 indie wrestling fans and wrestlers themselves, and nine out of ten of them will tell you Moriarty is the best pound for pound wrestler on the independent scene right now.
Moriarty handed Lamar a defeat at last months Warrior Wrestling Stadium series match, so you know Lamar has that on his mind heading into this huge three-way battle.
AIW Thunder In Indianapolis 2020
Every generation has a fued that stands the very test of time – and while this is only the second match between The Karate Man & Tom Lawlor,
the fued has had a myriad of moments forever etched in the lineage of professional wrestling.
In their last meeting, a referee's decision at AIW's "I Assure You, We're Open!", Lawlor actually killed Karate Man – well, at least, he thought he did.
The Karate Man caught the fancy of the wrestling universe – it will be interesting to see how far he'll go to avenge his defeat at the hands of "Filthy" Tom Lawlor.
AIW Thunder In Indianapolis 2020 10 09 Free Live Stream
Watch online
Server 1
Server 2
Uploaded By Site DX-TV.com